Construction of the Pond and Backyard
Our backyard started out as nothing other than a field of weeds and often, after a hard rain, a field of mud. Beginning in the Spring of 1997, we decided to turn our mud and weed pad into a low-maintenance backyard.
We started out with this simple sketch: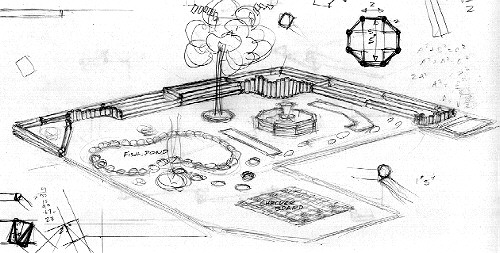 During the Memorial Day weekend, we broke ground with this project as we started to dig for the 1000 gallon fish pond. The digging was quite harsh since the earth in our backyard was primarily clay. One shovel at a time, we dug the pond to a variable depth between 16" and 30". The pond is approximately 7' by 12'.

After shaping the desired contour, plastic lining was used to cover the area. Water was then added and the pond slowly took its shape as the water filled.

Rocks were then added to the edges to hold the plastic lining, and aquatic plants were placed in the pond to prepare an eco-system for the fish.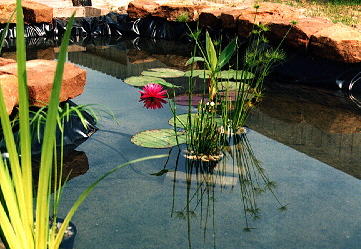 A submerged pump was added to provide water circulation with the filtering system built inside the garage next to the pond. The circulated water is returned to the pond by a waterfall made from stacked rocks.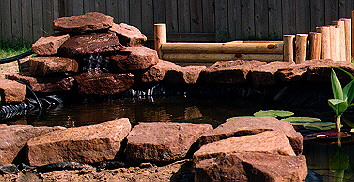 To complete the rest of the backyard, landscaping lumbers were used to build flower beds around the yard including an octagon island in the middle. Flowers, plants, and trees finally put some life into the summer-long project.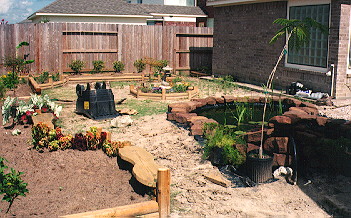 To make the backyard low maintenance, we decided to fill the entire yard with small river rocks. It took one full day to fill the yard with 10,000 pounds of rocks but it was worth the effort. Now, we no longer have to worry about cutting the grass in the hot summer time.
That's priceless!